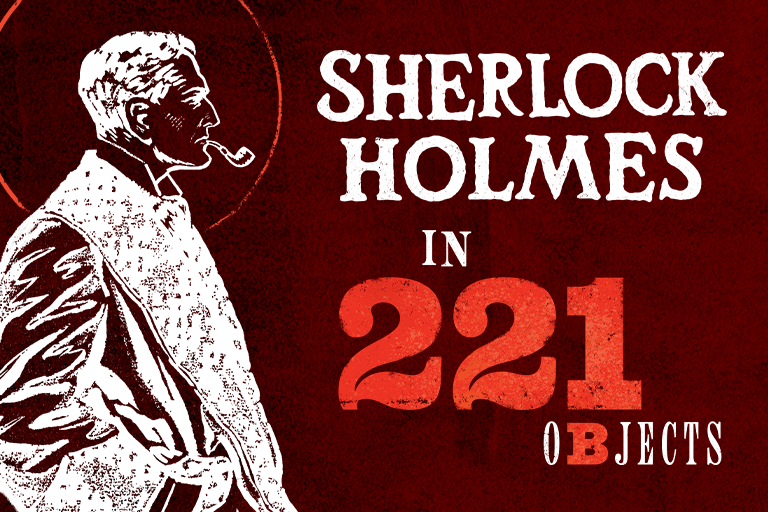 Sherlock Holmes in 221 Objects
On display at The Lilly Library
Indiana University, Bloomington
August 1st–December 16th, 2022
1200 E. Seventh Street
Fine Arts Plaza
Bloomington, IN 47405-5500
The Lilly Library Galleries welcome visits by the public, free of change, on Monday–Friday from 9:30 a.m. to 6 p.m. and on Saturday from 9:30 a.m. to 4 p.m. Drop-in public tours are held on Fridays at 2 p.m. Visit us online or call 812-855-2452. How to get to the Lilly Library.
Indiana University's Lilly Library, home to significant rare book collections and literary artifacts, reopened in August 2021 after a full-scale renovation that reimagined the iconic facility's interior to meet the needs of modern users. The renovation was made possible by the Lilly Endowment Inc. which provided a $10.9 million dollar grant to support the project, as well a supplementary grant to fund a cycle of murals by artist Ralph Gilbert in the Lilly Library Reading Room. Visitors are now greeted by elegant, modernized public galleries designed by national experts in library and museum display. Infrastructure modernization includes the building's first public elevator. Additional seminar rooms, a new lecture hall and technology adaptations throughout the library support classroom instruction, faculty conferences and visiting scholar lectures.
The Lilly Library now holds more than 450,000 rare books, 8.5 million manuscripts, the world's largest collection of mechanical puzzles, and 150,000 pieces of sheet music. The library has strengths in many areas including medieval and renaissance manuscripts, early printed books, British and American literature and history, children's literature, and film history, among others. Sherlockian rarities at the library include a copy of Beeton's Christmas Annual for 1887 and original illustrations of Sherlock Holmes stories made by G. K. Chesterton. It is also the home of the archives of the Baker Street Irregulars.