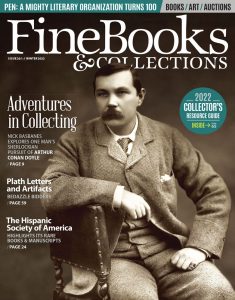 "Adventures in Collecting: Nick Basbanes Explores One Man's Sherlockian Pursuit of Arthur Conan Doyle"
Fine Books & Collections, Winter 2022.
"When it comes to single-author book collectors," says Basbanes, "Sherlockians are a species unto themselves, and when it comes to Sherlockians, the same can be said for Glen Miranker, with rare books, manuscripts, pamphlets, magazines,variants, proofs, and piracies being just one vital component in his over-all scheme, which is is on full display in his forthcoming exhibition at the Grolier Club, "Sherlock Holmes in 221 Objects."
Nicholas A. Basbanes is the author of ten works of cultural history, including A Gentle Madness: Bibliophiles, Bibliomanes, and the Eternal Passion for Books (1995), and his his most recent, Cross of Snow: A Life of Henry Wadsworth Longfellow, (2020) named a best book of the year by the TLS and the recipient of a Nonfiction Honor Award from the Massachusetts Center for the Book. He also writes the Gently Mad column for Fine Books & Collections.

Sherlock Holmes in 221 Objects:Episode 227, October 30, 2021
An interview with Glen by Scott Monty, founder and co-host of  I Hear of Sherlock Everywhere, the definitive site for news and information about Sherlock Holmes on the web. You can also hear Glen in these episodes:
KQED Arts, June 21, 2012
Far from Elementary, a Collection of Sherlock Holmes Artifacts
§
The Best of Sherlock Holmes, June 29, 2012
Hound of the Baskervilles Exhibition "You Know My Methods" at the Book Club of California
§
Smithsonian Magazine, July 26, 2012
The Deerstalker: Where Sherlock Holmes' Popular Image Came From
§
Forbes, November 26, 2013
A Former Apple Executive's Obsessive Search For Sherlock Holmes
§
BCC News, London, May 20, 2014
Sherlock Holmes: Can a Fictional Man be a London Icon?
                                                    §
The Guardian, October 16, 2014
Sherlock Holmes exhibition reveals Conan Doyle's first plots for hero sleuth